Product Quality
The Humming Mask has been designed and manufactured as a highly durable and robust quality product. Since we need to continue using the mask a couple of times a week for the rest of our lives, it must be strong, comfortable to use and appealing to look at. The Humming Mask represents all of these requirements with a life cycle of 6.500 hours on moving parts. Equivalent to approximately 8 years using the mask for 2 hours a day. The power unit and program control, built into the base, consist of high quality components that will last for many years. Each base has a soft relaxing orange LED light, to avoid disturbing your partner when you use the mask at night, and to assist you  replacing the mask in  its base before sleeping.
The materials used are strong, durable and flexible. The weight of the total product is 3 lbs. (1.5 kg) and it comes with travel bags and international power supply. There are two head straps made of strong, soft Velcro – one in each of black and white. A permanent wire connection is chosen for safety when using the mask, as the mask has been designed to make you fall asleep. Each product has a five (5) year warranty.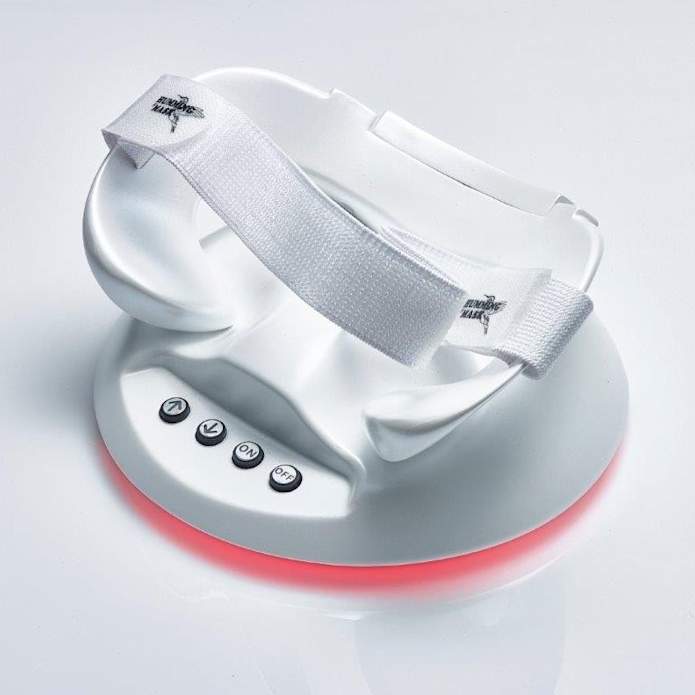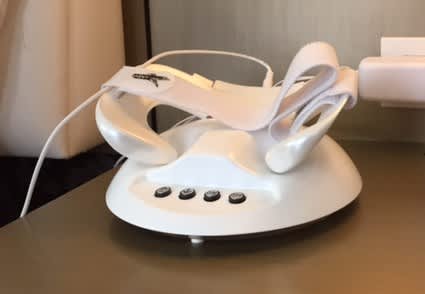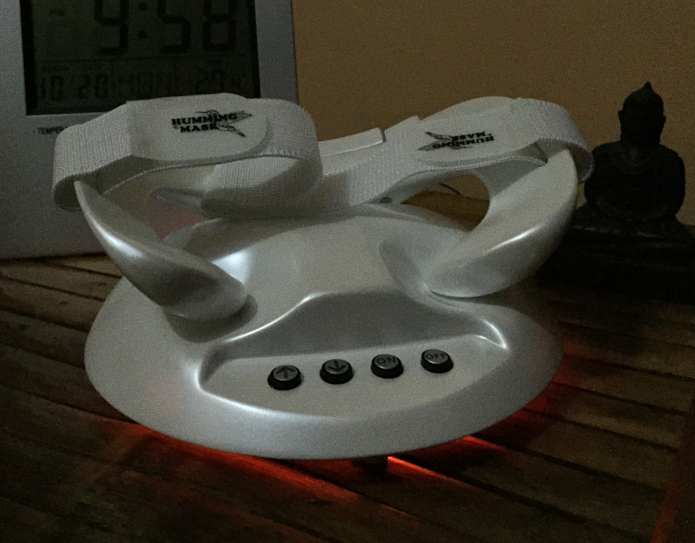 A soft orange LED light, assist you  replacing the mask in the dark.
Personal Warranty and Security.
We are confident about  the quality of our products, that you are free to return it to us within the first 90 days of use for a full refund, including shipping and handling costs, no questions asked, which makes it completely risk-free. The Humming Mask comes with a product warranty for a period of 5 years, both on functioning and product quality after sale. Mechanical and electrical parts can be subject to replacement over time. As continued use of the mask is important, each product comes with a replacement service offering storage and/or repair for sales to  the US and Europe.
The most important aspect of this project is that Nitric oxide really does what we say, and has been frequently medically proven. The reason why the Humming Mask  was not available earlier, is because of the recent discovery of "sinuses as major producers of NO.
Some of the latest significant research studies on NO was published in 2013 and 2015. A study from 2013 was supported by the N.I.H. (national institution of health) <NHI-1R01Hl096973> and the A.H.A. (American heart association)  <09SDG-2150066>,  and was carried out by the Institution of Transfusion Medicine and the Hemophilia Center of Western Pennsylvania. This study provides a strong evidence  of how NO mediates in a number of beneficial tissue responses and regulates the mitochondrial function. (*6)